Over 3,000 payments via the Lightning Network were registered at the largest German-speaking Bitcoin conference "Die Bitcoin Konferenz" according to Swiss payment processing startup Lipa.
The conference attracted over 800 attendees and the stage hosted renown speakers such as Michael Saylor, Saifedean Ammous, Rahim Taghizadegan, Nikol Jilch and Ijoma Mangold.
As a venue, the organizers chose Congress Innsbruck surrounded by beautiful mountains, in the midst of the breathtaking Innsbruck old town.
While tourists from all over the world were enjoying historic and mesmerizing 'gold-standard' architecture outside, the delegates inside the conference floors time traveled into the future and on to the Bitcoin standard. All merchants and food stalls accepted Lightning payments thanks to a new point of sale integration provided by Lipa.
Starting with an icecream vendor in front of the entrance that offered its ice-cold delights for just 10.500 Sats per scoop including waffle, attendees could spend Sats for every purchase:

A bystander asks "What kind of currency is that?" and the response by the ice cream vendor is simply "It's a digital internet currency". The camera man concludes: "This is sound money ice cream".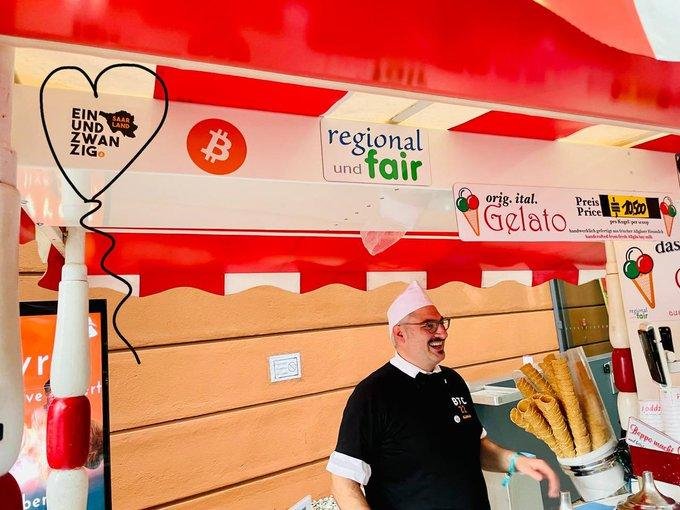 Besides icecream, attendees could aenjoy local Austrian cuisine, coffee and snacks during breaks.
Matthias Tanzer, managing director at Donhauser GmbH, short DoN, the catering service in charge of all culinary services at the conference explains how smooth Lightning works for transactions:
B.N.: Did you expect it would be that smooth?
M.T.: No, I thought it's more difficult but it's actually very easy.
With over 3,000 successful transactions at the point of sale, the test is a full success for the conference organizers, the catering service and of course for attendees and Lightning enthusiasts.
The Lightning Network allows for astonishing transaction throughput, instant confirmation and low to no fees. The conference stress test is proof for the maturity of the Lightning Network which has grown from a niche phenomenon to a robust and fully decentralized payments network.
Although the Lightning Network can theoretically process hundreds of thousands of transactions per second, the event in Innsbruck has broken a record for retail transactions in a single day on Lightning.
Mr Tanzer is looking forward to evaluate the roll-out of Lightning payments in other locations. Donhauser GmbH oversees more than 90 locations in Austria, among them Vapiano restaurants, gourmet restaurants, delis, mountain restaurants and high-value cafés and bars.

Bitcoin News also reported about the increasing adoption of NFC cards for Lightning Payments.
The post Record Of 3,000 Lightning Point-Of-Sale Payments At Largest German-Speaking Bitcoin Conference appeared first on Bitcoin News.
This content was originally published here.