Best NFT Crypto to Buy – 10 Best NFT Crypto to Buy Right Now
Non-fungible tokens are among the most popular digital assets right now. This flourishing industry hasn't left investors untouched – in fact, more and more people look into how to buy NFTs and what steps you need to take.
To help you get started, we've put together this curated list of the top 10 NFT crypto coins you should have on your watchlist this year.
Best NFT Crypto to Buy in 2022
One of the main properties of an NFT is that you cannot buy it with just about any crypto coin.
Below, we have reviewed the 10 NFT crypto coins to buy and why you should. Let's dive in!
1. MANA – Best NFT Crypto for Buying Digital Real Estate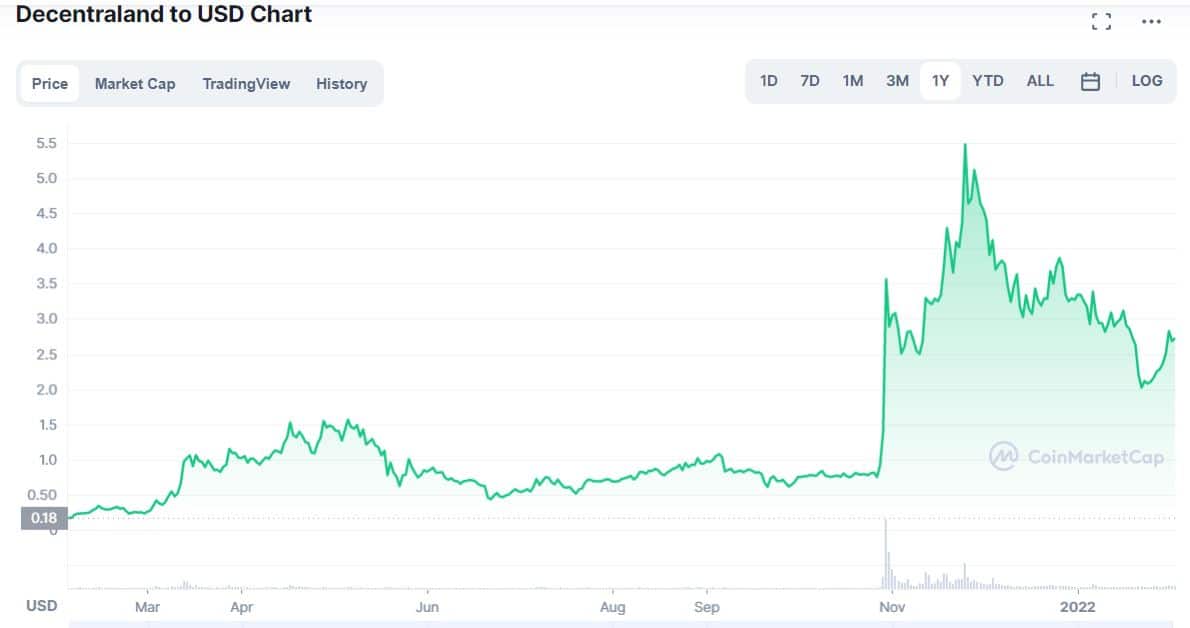 MANA is a crypto coin used by players in a virtual game known as Decentraland. This is a piece of software that runs on the Ethereum blockchain and is composed of a global network of players. In this virtual game, players can buy virtual land in a shared world while interacting with each other, exploring the world, and playing different games.
In the game, you can buy LAND (which is an NFT) using the NFT crypto coin MANA. Everything happens on the blockchain, so the ownership of the LAND tokens is tracked. When you buy land in the game, you need to store your acquired pieces of land in a wallet, just like you'd do with any type of cryptocurrency.
Essentially, Decentraland uses smart contracts, so people who want to buy and sell or hold NFTs can join this unique game world and have fun while doing so. Having the concept of NFTs explained will help you understand what they are and how they work.
In terms of returns, MANA increased 1,553% in the past year. It is also the second NFT crypto coin with the highest market capitalization right now, just shy of $5 billion.
If you also want to join this thriving community, you can easily buy MANA at eToro and sign up on Decentraland to buy your first LAND.
67% of retail investor accounts lose money when trading CFDs with this provider.
2. SAND – The Best NFT Crypto for Passive Earning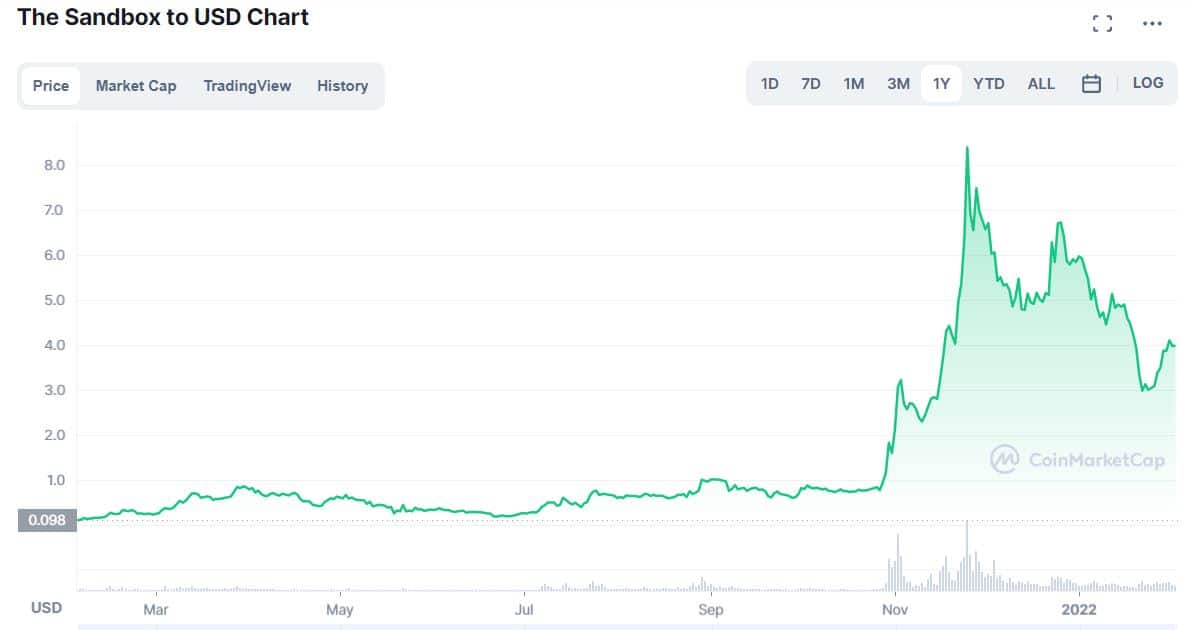 Similar to Decentraland, SAND is an NFT crypto used for blockchain-based gaming. Sandbox dates back to 2012 when it was a mobile phone game in which you could create your own world similar to Minecraft. The game was highly successful, reaching 70 million users by 2018.
The latest version of the game is now available where you can buy NFTs and other digital assets using the game's utility token, SAND. In this game world, players enjoy unlimited freedom – they can collect resources, craft items, and even grow animals, all with the purpose of creating their own virtual world.
Sandbox also allows its users to create their own NFTs via a tool known as VoxEdit. Once you create your NFTs, you can trade them on the Sandbox marketplace. Some examples of NFTs you can create include equipment, materials, props, animals, and creatures, among others.
Similar to Decentraland, Sandbox allows you to use the token to buy real estate (LAND), which can then be used in a few ways. For example, you can create your own game using LANDs and then earn the utility token if you publish it. There are multiple ways of earning in this game, including charging other players a fee when they visit your LAND.
As Sandbox grows, both the platform founders and stakers earn. The SAND token is built so that every 5% of each transaction is split into two: half of the amount goes to the platform and half of it goes to stakers.
In other words, even if you don't want to be an active player, you can earn money by buying SAND and receiving the fee when transactions are conducted on the platform. Thus, the more transactions, the more money you receive.
67% of retail investor accounts lose money when trading CFDs with this provider.
3. XTZ – The Most Promising NFT Crypto Coin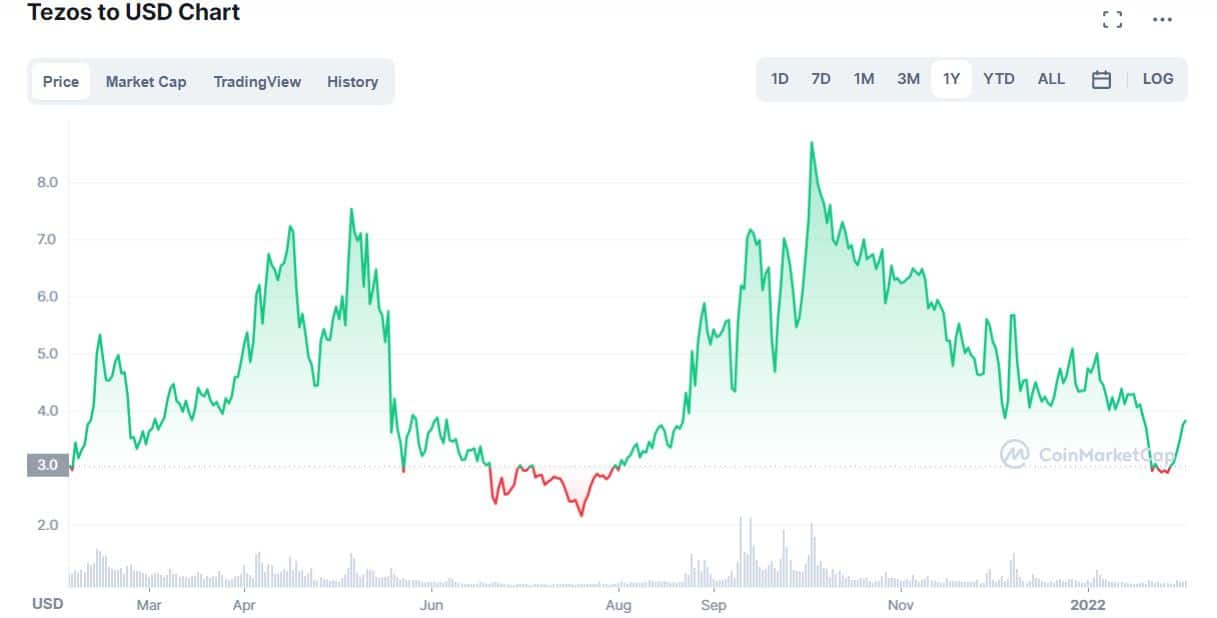 Tezos is a blockchain network with XTZ as its native cryptocurrency. It is one of the main competitors to Ethereum and it was created to facilitate the design of decentralized applications (just like Ethereum). Once you purchase XTZ via online brokers like eToro, you can then use the coin to purchase many NFTs. Some of the main marketplaces that you can access include Rarible, Kalamint, and HEN.
There is a wide range of NFT collections, so you can buy anything from music NFTs to NFT art, or even one of the newest NFT collectibles from the popular clothing giant, Gap.
One of the best highlights that made Tezos quickly gain popularity is the fact that it is a "self-amending ledger". In other words, it is created so that it upgrades itself, improving its functionality.
One of the main drawbacks of others, like Bitcoin blockchain, for instance, is that every new upgrade requires forking (or splitting). So, to improve Bitcoin, there are numerous "forks" created, such as Bitcoin Cash.
The XTZ token spiked a few times so far. One notable price increase happened in October, right after a promising network upgrade, reaching a peak of $9.18. Then, in early December, the price increased once again following Ubisoft's announcement that it will enter the NFT industry using Tezos.
67% of retail investor accounts lose money when trading CFDs with this provider.
4. AXS (Axie Infinity)– Best NFT Crypto with 5,000% 1-Year Return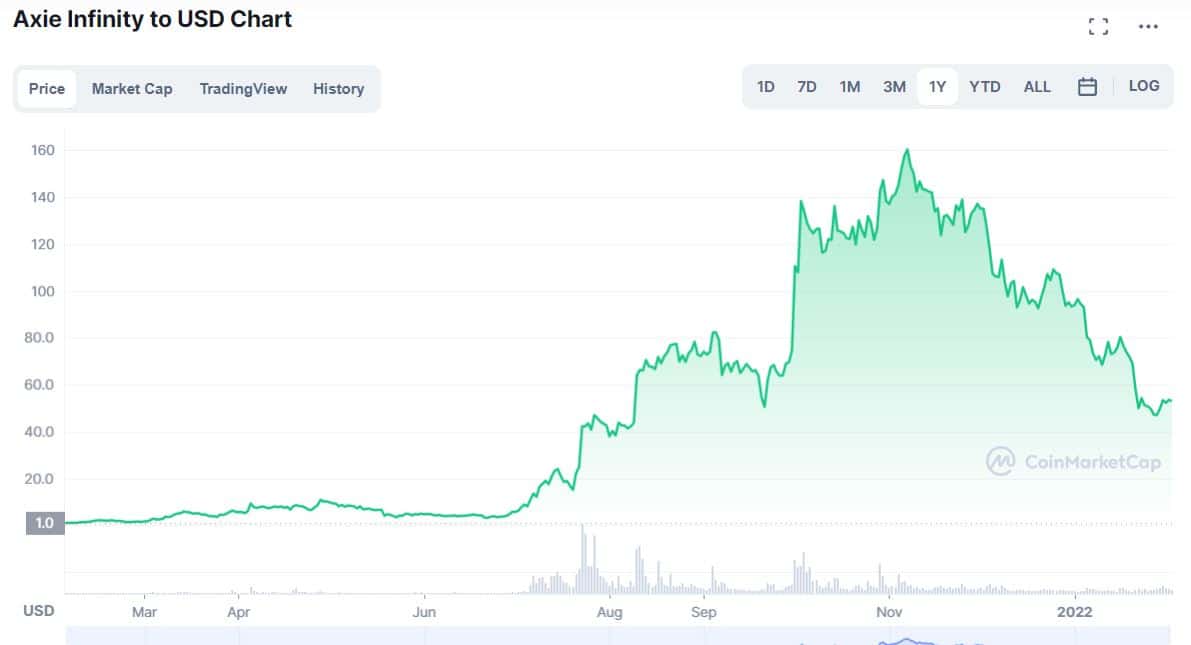 You are probably familiar now with game-related NFT crypto coins. They are extremely popular not only because of the gaming community. In fact, many gaming coins like AXS are booming because increasing adoption among gamers means higher value – and higher value always attracts investors and traders.
For instance, if you head to the Axie Infinity marketplace, you'll find Axies (characters) for only about $30. However, buying plots will take about $9,000 out of your budget. The Vietnamese gaming company has achieved impressive levels of popularity among gamers, which resulted in valuable NFTs being traded on the platform.
One of the distinctive features of this gaming world is that it has some similarities with the all-time favorite game Pokemon. The game has little "monsters" called Axies, and players can breed these characters, trade them, or fight with other players. All the Axies, items, and other accessories in the game are NFTs that you can buy with AXS tokens.
67% of retail investor accounts lose money when trading CFDs with this provider.
5. GALA – Best NFT Crypto Up 2,000% in 1 Year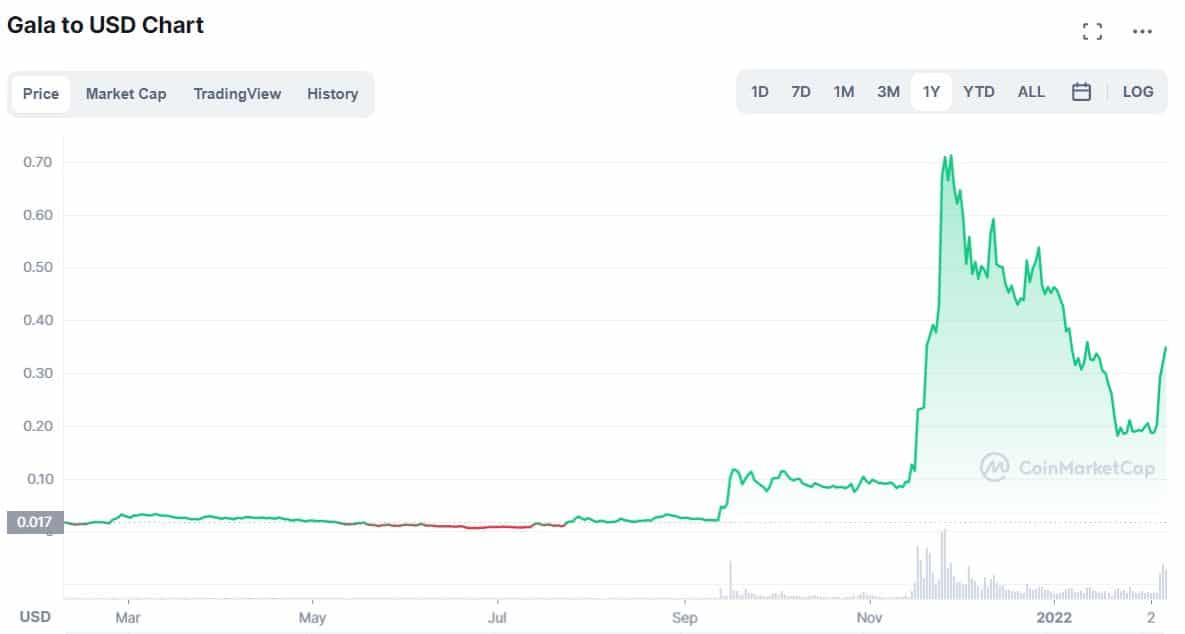 The gaming industry is on the rise, especially as blockchain technology becomes more and more popular. Gala Games is a unique project that uses NFTs to give power to players.
Gala Games is not a game per se – instead, it's an ecosystem or a platform that aims to develop multiple games. These games are chosen by users who buy NFTs and influence decisions. For instance, Gala holders can choose which games are to be developed or what games to get the funding.
Gala Games currently has only one game developed so far, known as Town Star, and one NFT collection. Its future plans are based on releasing many other games, including an RPG and a tower defense game.
Despite its quite recent launch in 2019, Gala Games has more than 1 million active users and is up more than 2,000% in one year, but with significant fluctuations over the past months.
67% of retail investor accounts lose money when trading CFDs with this provider.
6. WAXP – Best NFT Crypto for Zero-Fee Transactions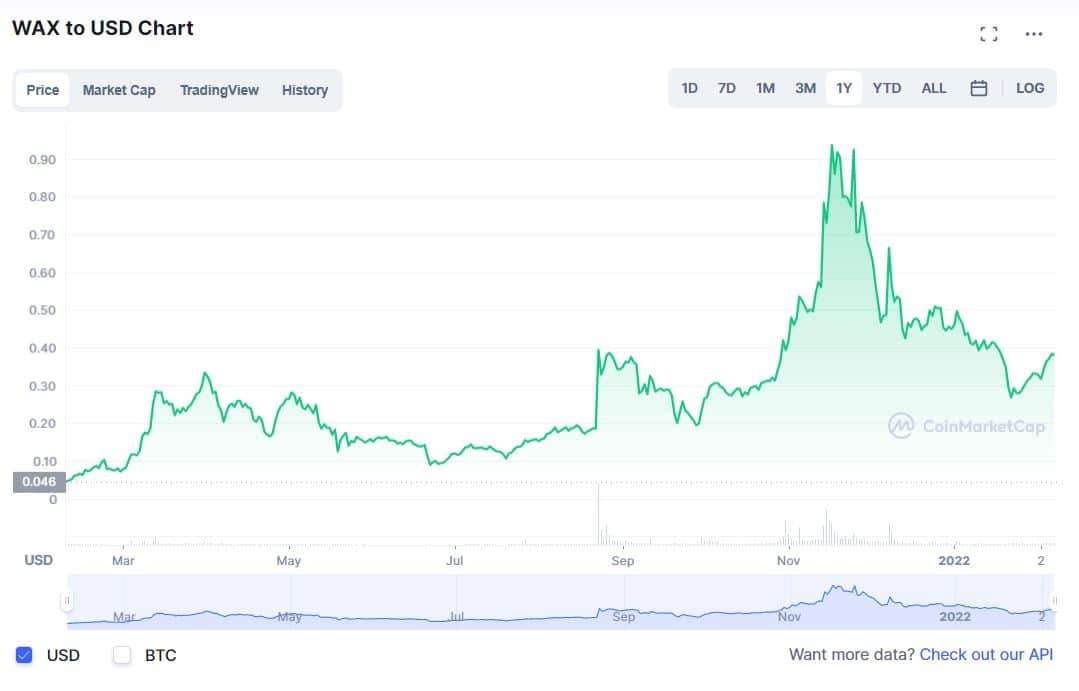 NFTs and crypto are not only revolutionizing the tech or the gaming industry. It plays an important part in the decentralization of the financial system, too. By eliminating third parties like banks, crypto enables individuals and companies to make zero-fee transactions.
WAXP is one of the NFT crypto coins that make this possible. The WAX blockchain was specially designed for this purpose in 2017, aiming to revolutionize e-commerce.
The native coin of this blockchain is known as WAXP. With the versatile WAXP, you can currently buy NFTs on several marketplaces that sell animations, pictures, in-game items, and many more.
67% of retail investor accounts lose money when trading CFDs with this provider.
7. ENJ – Best NFT Crypto Coin for Unique Blockchain Assets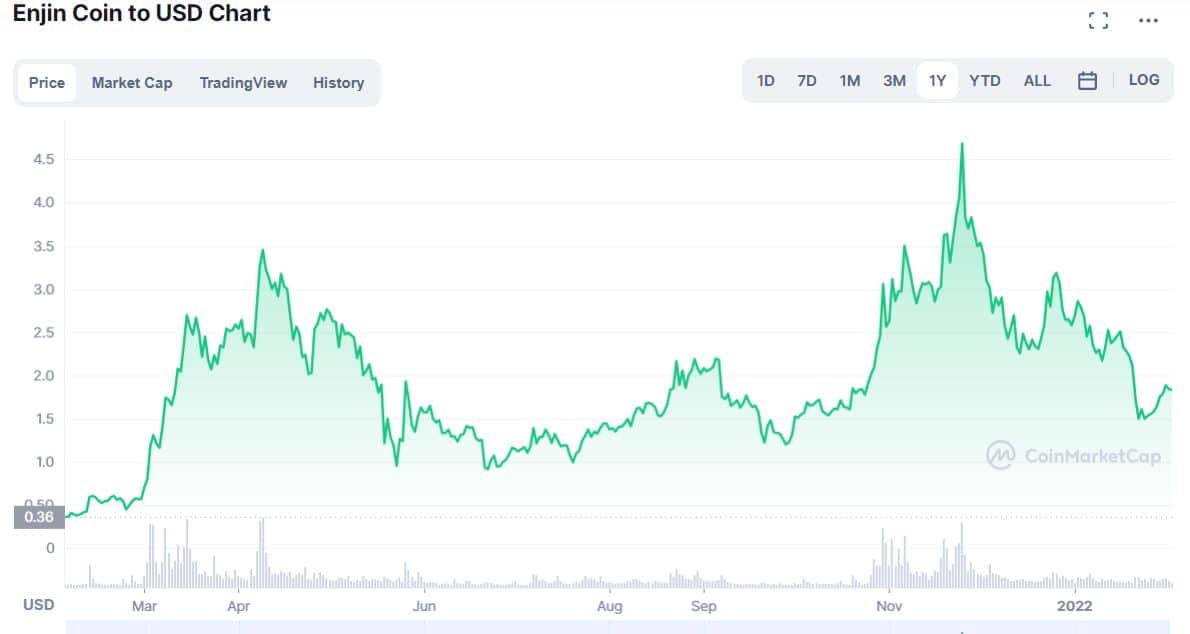 The ENJ coin was designed by the Enjin gaming company. The online gaming platform is built on Ethereum and features many social gaming capabilities, ranging from chatting to creating and selling your own virtual items in virtual shops. The platform now hosts about 20 million users.
Similar to other gaming platforms, you can use the platform to create your own NFTs and sell them. Each item in the game has a specific value in ENJ tokens.
Even more important, the ENJ project became very popular among many multinational companies, too. For instance, BMW now allows app users to convert the BMW coin to ENJ, while Microsoft uses the company's technology to run Azure Heroes, a social rewards program.
Next, Samsung also partnered with the company to integrate their Blockchain Keystore into the company's proprietary wallet. Finally, due to the partnership with Aave Protocol, ENJ coin holders can deposit the crypto asset in the Aave Protocol and allow others to borrow them (and earn interest on their ENJ coins), known as staking.
67% of retail investor accounts lose money when trading CFDs with this provider.
8. CHZ (Chiliz) – The Best NFT Crypto for Sports Fans
Do you love sports? If yes, Mark Cuban NFTs and Draft Kings NFTs may be worth considering.
In short, CHZ is a crypto coin that you can use to buy Fan Tokens of your favorite sports team. Fan Tokens are available on the Socios marketplace.
Apart from buying NFTs that remind you of your favorite sports teams, Fan Tokens have another purpose: they allow you to influence your favorite team's decisions, including those related to celebration songs, how their uniforms look like, stadium names, and many more.
The CHZ token is supported on the Ethereum blockchain, but it also works as a BEP2 token on Binance Smart Chain. Some of the teams you will find on Socios.com include FC Barcelona and Aston Martin Cognizant Formula 1 team, among many others. Each team decides the value of their token and what abilities or special rewards holders can receive.
You should also note that your Fan Tokens' value can fluctuate over time. For instance, if your team performs well, or wins an important game, the Fan Tokens can become more popular, increasing their scarcity and value.
67% of retail investor accounts lose money when trading CFDs with this provider.
9. SushiSWAP – Best NFT Crypto for Digital Cuisine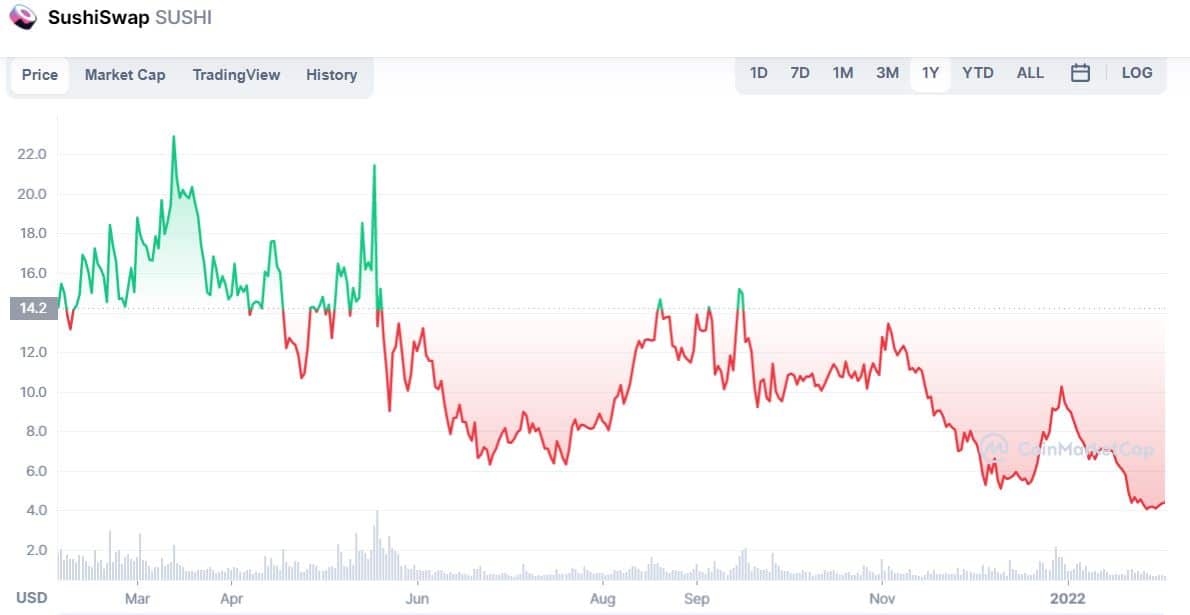 SushiSWAP does sound delicious! Despite this, this crypto coin is actually a token on the proprietary decentralized exchange with the same name. As the name suggests, you can swap cryptocurrency – and potentially buy it if you love this food.
One of the main highlights of SushiSWAP is the amount of control you get over the protocol. In other words, when you buy the SushiSWAP token, you also get governance rights. This means that everyone holding SUSHI can submit an improvement proposal, and all holders get to vote on it. These proposals can involve small or huge modifications to the protocol, so the future of SushiSwap is entirely dependent on its holders.
Similar to many other top NFT cryptos on our list, you can also earn money if you buy SushiSWAP via staking. In other words, you lend your coins and you get paid interest on them. This happens in the liquidity pool, where you basically lock your asset and earn rewards on this.
There are numerous other ways to earn money with SushiSWAP, too. For instance, you can stake your SUSHI coins into the so-called "SushiBar" and you earn xSushi. In return, xSushi gets you 0.05% on all the trades on all the liquidity pools.
As expected, SushiSWAP can also be used as an NFT crypto coin. The marketplace is called shoyunft and you can buy art NFTs.
If you are interested in other artwork, Banksy NFTs are worth checking out.
67% of retail investor accounts lose money when trading CFDs with this provider.
10. FET – Best NFT Crypto for AI Investors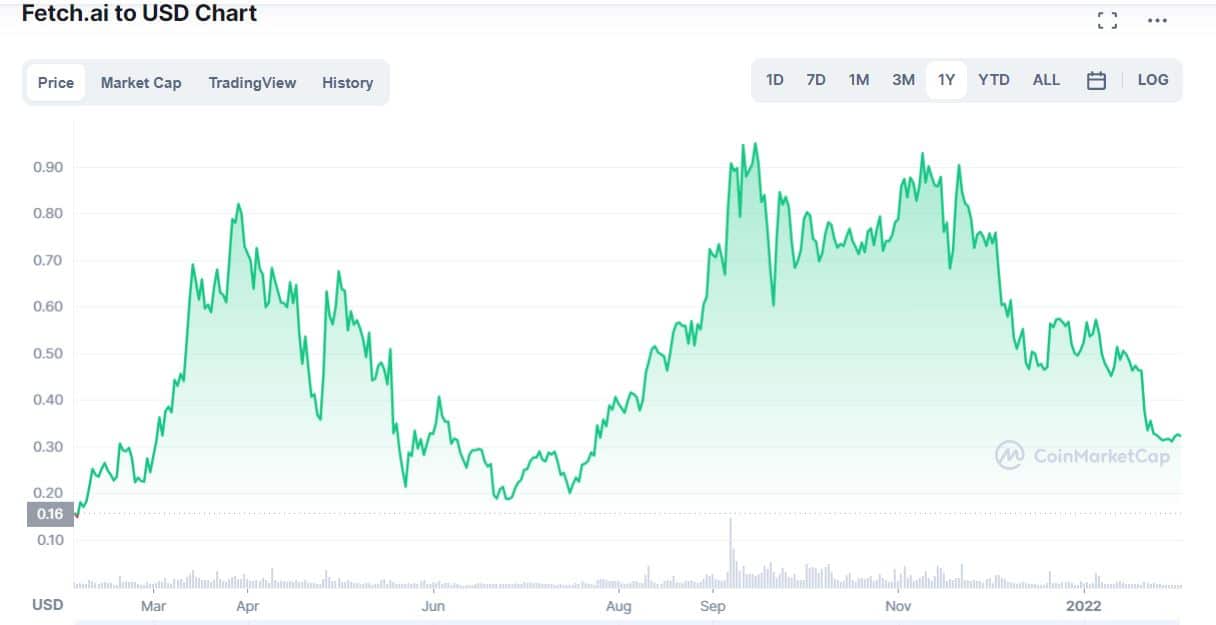 Have you ever heard of collaborative artwork? This relatively new field came to life thanks to one of the newest AI-based companies, Fetch.ai. It launched an NFT platform that allows artists to collaborate and create art using AI (artificial intelligence) and ML (machine-learning methods).
It is not a secret that NFTs have massively disrupted the art industry since most NFTs came as the digital representation of art. Fetch.ai basically uses artists' patterns to generate artwork whose ownership is collective (belongs to all the artists whose work was used). The newly created NFT is based on smart contracts. However, the artists do not own the NFT, but the algorithm used to create the work and the money that comes from the artwork.
Although these NFTs are not currently available for sale, the concept may actually lead to creating NFT securities, as security is, at least in the US, an asset held by several people at the same time. Thus, keeping an eye on the platform's developments may allow you to get a share of the pie very soon. Alternatively, you can simply buy FET and stake it – so you'll earn some passive income meanwhile.
67% of retail investor accounts lose money when trading CFDs with this provider.
How to Buy the Best NFT Crypto – A Quick Guide for 2022
If you want to buy the best NFT crypto or crypto coins, you need to sign up with one of the best online brokers – eToro.
Below, we will walk you through each step using Ethereum as an example, but you can also find and buy the crypto coins mentioned on the list above.
Step 1: Open an Account with eToro & Verify It
First, you need to head over to eToro and click on "Join Now". Fill in the online form with the required info. Once you create your account, you also need to comply with the KYC policy by uploading your government-issued ID and proof of address. eToro will verify your account instantly and you'll be ready to trade.
Step 2: Deposit Funds
To buy the best NFT crypto coins, you first need to deposit fiat money. Your eToro account will have USD as the base currency, but you can deposit any currency and the broker will automatically exchange it for you for a small fee.
Make sure you deposit enough fiat money to cover any transaction costs associated with NFTs and/or network, such as gas fees.
Step 3: Purchase Ethereum on eToro
Next, once you deposit your fiat money, you will be able to check your new balance. From there, you can simply search for Ethereum in the search bar at the top and place a trade. You can buy  Ethereum and NFT crypto coins for zero commissions on eToro.
       67% of retail investor accounts lose money when trading CFDs with this provider.  
Step 4: Download MetaMask & Send Ethereum to MetaMask Wallet
The next step involves downloading MetaMask, one of the most reputable wallets for crypto coins. This wallet can support Ethereum and any other ETH-based token. In case you want to buy a different NFT crypto, you need to find a suitable alternative.  Then, on eToro, use your wallet's address and send the ETH to MetaMask.
Step 5: Connect to an NFT Marketplace
Choose one of the best NFT trading platforms to browse NFT tokens, NFT crypto coins, and spend your Ethereum. Based on the chosen marketplace, you will have to follow different steps to connect your wallet.
If you buy a versatile coin like ETH, you can join a wide variety of NFT marketplaces, including the most popular one, OpenSea.
Best NFT Crypto to Buy – Conclusion
NFT cryptos are coins that you use to buy non-fungible tokens. In this guide, we've covered the most popular NFT coins and why they are attracting all the attention right now.
Regardless of which coin you use, keep in mind that eToro is a great choice if you want to buy crypto coins with zero commissions.
eToro – Best Broker to Buy NFT Crypto
What is NFT crypto?
NFT crypto coins refer to cryptocurrency that you can buy and then use to purchase NFTs. NFTs, or non-fungible tokens, cannot be bought with any type of cryptocurrency. It also depends on your chosen NFT marketplace or what type of digital asset you want to buy. Some NFT crypto coins like Ethereum are extremely versatile and compatible with most NFTs.
What is the difference between tokens and coins?
Perhaps the easiest way to understand the main difference between a token and a coin is their purpose. A crypto coin is a medium of exchange – pretty much like your fiat money (i.e., dollars). A token is a digital asset or something you can buy with crypto coins. For instance, a token represents your car and you use coins to buy it. This is similar, but the car is actually a digital asset you buy online (such as a non-fungible token).
What is the difference between a coin and a blockchain?
A blockchain usually has a native coin that is used to store value. For instance, Ethereum is a blockchain and its native coin is Ether. A blockchain can also have tokens that are traded or staked on the blockchain to earn money via interest.
How do I buy NFTs with crypto coins?
In short, you need to sign up with a broker like eToro, and buy the relevant NFT crypto coin. Then, you need to store your crypto in a wallet and find the right marketplace for your needs. Then, on the marketplace, you can use your newly bought crypto coins to purchase NFTs.
Is it risky to buy NFTs?
The technology behind NFTs is safe, but you need to opt for a safe wallet (like MetaMask) and always do your research before investing in any asset. Also, keep in mind that these assets are quite new, so they can be very versatile, with their prices going up or down very frequently and abruptly.
About Ana Frincu
PRO INVESTOR
Ana Frincu is a freelance content writer specialised in finance and economics. She has a BA in International Business Management and a MA in International Taxation and Finance. With a keen interest in fintech and personal experience as an investor, she covers a broad range of topics, including trading, alternative data, cryptocurrency, and macroeconomics.
Argentina's Energy Secretary in 2002, and subsequently its World Bank representative.
Author who enjoys writing about social media, other marketing strategies, and getting an education.
Senior fellow at the Peterson Institute for International Economics. Adjunct professor at Georgetown University.
Andrea Edwards has worked in marketing and communications all over the globe for 20 years, and is now focused on her passion – writing. A gifted communicator, strategist, writer and avid blogger, Andrea is Managing Director of SAJE, a digital communications agency, and The Writers Shop – a regional collaboration between the best business writers in Asia Pacific
This content was originally published here.